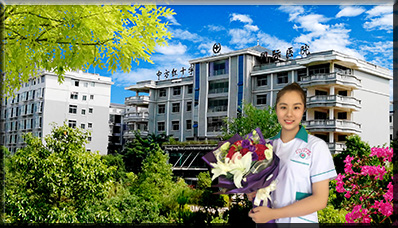 From 2000 till now, nearly 3000 international friends, from more than 100 countries, have come to our facility.

China and TCM are fighting against coronavirus very successfully.

Stay strong, the people of the world!

Many international friends in our hospital find the fact that "most international patients who suffer from chronic and difficult health problems could get obvious improvement during the first two weeks." For example, the curative result for lumbar disc protrusion and sciatica is very significant

.

We treat them by pure TCM treatment with low cost and quick effectiveness. No surgery, no side effect, no hormone, no sequela. For lumbar disc protrusion, you will see some improvement after one week treatment, it can be cured after one and a half months...... Also the treatment results for hypertension is good, generally speaking, you won't need to take medicine after two months treatment and don't need western medicine in your whole life either.
On March 18, 2012, our Jordanian patient's father Dr. Walid wrote a letter to the President of Red Cross of China, Mr. Hua Jianmin, to express great appreciations to Hu Jintao, the President of China and Wen Jiabao, the Premier of China, traditional Chinese medicine (TCM) as well as our hospital for successfully curing his daughter's 13 years' tormenting Progressive Systemic Sclerosis SCLERODERMA. Check the details here
The vice president of Overseas Chinese Federation came to our hospital to guide our work on Nov. 14th.
Angelo Ambassador visited
Gaoqiao Chinese Medicine Clinic on Nov. 13th.
The counsellor of Algeria in China visited Gaoqiao Chinese Medicine Clinic on Nov. 12th.
After two months' treatment in our hospital, now the patient can stand and walk about ten feet by a walker.
In early January, Liana from Indonesia came to our hospital for the TCM study.
In the end of December, the new foreign friends came to our hospital for the TCM study and TCM treatment.
In early November, some of our foreign friends went to Jinshi Garden.
In early October, some of our friends went to Spring Bay to have dinner.
In the end of September, some of our foreign friends went to the Wushui Scenic Belt to enjoy the beautiful scenery.
In golden autumn season, the elite of traditional Chinese medicine gathered in Changsha to discuss the international exchange and cooperation of Chinese medicine.
In early August, some of our foreign friends went to the countryside to experience the rural beauty.
In the end of May, 2019,
the foreign friends from USA, Kuwait and Mongolia took a walk in Yingfeng Park.

On 19th May, 2019, the foreign friends went to Biguiyuan and Botanical Garden.
Congratulations on the opening of the "TCM Scientific Research Base For World No.1 Difficult Health Problem ALS" in Zhongfang Red Cross International Hospital on July 1st, 2017.
Our new dynamic video on youtube
Good Comments from Our International Patients on Our Service
Important notices:
1. Before coming to our hospital, please contact us for an invitation letter so that you could get your visa in the Chinese embassy in your country. Thanks!
2. Even though China is a very safe country in the world, before travelling to our hospital, any friend is advised to purchase trip insurance in your city for your security. Since in China we are not able to buy this kind of insurance for you. Thanks for your understanding and cooperation.
Our Video Medical Report on ALS Treatment
Medical Report about scleroderma treatment
Medical Report about MS (multiple sclerosis)
Successful Cases for Cancer treatment
Successful Cases for kidney failure
Successful Cases for Lumbar Disc Protrusion And Sciatica
More Videos of us on youtube or More Videos of us on youku
Two of our product patents are welcoming intelligence transfer or manufacturing cooperation
Hospital Address:
Zhongfang Pure Chinese Medicine Hospital
(Former Zhongfang Red Cross International Hospital),
Dangui Road, Zhongfang County,
Huaihua City, Hunan Province,
China.
Zip code: 418005
Contact Tel: 86 745 2813385(from 9:00 to 17:00 China Time)