Viola Herb (zi hua di ding)
Herba Vilae
Properties: Bitter and pungent in flavour, cold in nature, it acts on the heart and liver channels. The function of the pungent flavour is dispersing. The action of the cold property is purging and clearing away heat and acting on the heart, liver and blood. The potency of clearing away heat, detoxicating and of subduing swellings and dissolving lumps is equivalent to that of the dandelion herb. So it is often used in combination with the latter to reinforce each other¡¯s action in treating sores due to noxious heat. The herb is expecially powerful in detoxication hence being an important medicine for treating furunculosis.
Effects: Clearing away heat, detoxicating, treating boils and dissolving lumps.
Indications:
1.
For sores, furunculosis, swellings, acute mastitis with swelling and pain, it is used in combination with heat-clearing and detoxicating drugs, such as dandelion herb, wild chrysanthemum flower and honeysuckle flower, or applicated externally on the affected part with the fresh herb pounded to pieces.
2. For treating the snake-bite, it is taken orally with the freshly pounded juice, or applicated externally in combination with a small amount of realgar.
Dosage and Administration: 10-30g. Double the dose when the fresh herb is used.
----------------------------------------------------------------------------------------------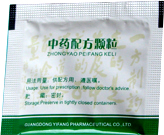 For the convenience of customers, we offer the Viola Herb (zi hua di ding) as the quick-dissolving granule made through modern technology.
Directions:
Every sachet is equivalent to raw herb 10 grams.
The dosage is for adults, one sachet each time, twice a day. Please put the granule into a cup, then put 50-100ml boiling water into the cup and stir it with spoon. You will get some tea, drink it when it is luke-warm. For children, the dosage should be reduced according to the weight.
Air ship 50 sachets of Viola Herb (zi hua di ding) in the form of quick-dissolving granule for your personal use now at $50.00

.
If you would like to order this raw herb, please go to the order form.