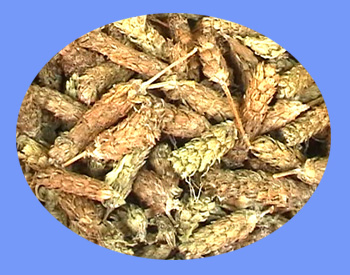 Prunella Spike

Spica Prunellae

 

This drug is the spike or whole plant of the perennial herb, Prunella vulgaris L. (Family Labiaceae), grown in the regions throughout China, mainly produced when its spikes become withered, and dried in the sunlight.

Properties: Bitterness and pungent in flavour, coldness in nature, it acts liver and gallbladder channels. Its bitter flavour and cold property clear the heat and fire, and the pungency resolves the hard lumps. The herb can clear the excessive fire from liver and gallbladder to improve vision, and reduce the phlegm- fire stasis to remove scrofula. It is an important herb for treating conjunctival congestion, headache, and scrofula caused by phlegm-fire stasis.

Effects: Clearing up liver-heart, purging fire, subduing swellings, and resolving hard lumps.

Indications:

1. For treating intense fire in the liver channel, liver fire, conjunctival congestion, dizziness and headache, it is used in combination with the drugs for clearing liver-fire, and improve vision, such as capejasmine fruit and chrysanthemum flower. For treating deficiency of liver-yin, blurred vision, it is used together with wolfberry fruit and cassia seed to nourish liver and improve vision.

2. For treating the scrofula caused by stasis of phlegm fire, it is used in combination with the drugs such as scrophularia root, oyster shell and kelp (laminaria) for softening and resolving hard lumps, resolving phlegm and eliminating scrofula.

Dosage and Administration:10-15g. Decocted in water for an oral dose of prepared as adhesive plaster.

Precautions: The water and alcohol extracts of this herb can lower the blood pressure. Its decoction has inhibiting effects of varying degrees on such bacteria such as Shigella dysen teriae, Salmonella typhi, Vibrio cholerae, Escherichia coli, Mycobacterium tuberculosis var. hominis, and staphylococci. It also has an anti-neoplastic effect.

----------------------------------------------------------------------------------------------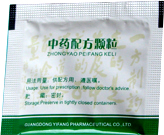 For the convenience of customers, we offer the Prunella Spike as the quick-dissolving granule made through modern technology.
Directions:
Every sachet is equivalent to raw herb 10 grams.
The dosage is for adults, one sachet each time, twice a day. Please put the granule into a cup, then put 50-100ml boiling water into the cup and stir it with spoon. You will get some tea, drink it when it is luke-warm. For children, the dosage should be reduced according to the weight.
Air ship 50 sachets of Prunella Spike in the form of quick-dissolving granule for your personal use now at $98.00.
If you would like to order this raw herb, please go to the order form.